DRAPERIES – CONSULTATION, DESIGN, AND INSTALLATION SERVICES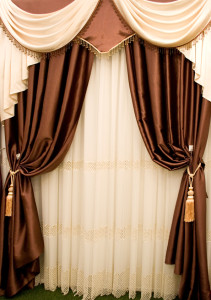 Our professionals at ShutterLuxe have years of experience in consulting with customers to design and install beautiful window treatments.We can assist you with determining your design style through evaluating your tastes and character, and offer a free in-home consultation.
Free Measuring
Free Installation
In-Home Design Consultation
Shutters
Polycore Shutters
Wood Blinds
Faux Wood Blinds
Shades
Woven Wood Shades
Draperies
We offer a full line of draperies in many different materials and styles to cover your windows.
If you are interested in lowering your energy bills, consider adding
thermal backed draperies
to your home. Whether you add thermal backed draperies or regular draperies, there will be energy savings. However, with curtains there is little, if any, savings.Curtains still play an important role in your home. There are areas and places where draperies are just too heavy a choice and curtains, shades, or shutters will be more appropriate.
 Draperies vs. Curtains, Which is Which?
Draperies are not curtains and curtains are not draperies, though a lot of people use the terms interchangeably.Draperies are generally made of thicker, more durable materials than curtains. They also normally consist of more than one layer of material and are often thermal backed.Thermal backed draperies protect your indoor furniture fabrics and wood from fading in sunlight. Fading can occur in direct or filtered sunlight. Thermal backed draperies block out the sunlight and harmful UV rays.Thermal backed draperies also assist with cutting down utility payments to cool or heat your home because they help to keep the air outside from intermixing with the air inside.Draperies are also generally more expensive than curtains because of the extra or special materials they are made of. But when considered with the energy cost savings return on your investment, they are well worth it.Draperies are normally full length, meaning they extend from the top of the window all the way to the floor. They can be shorter however.Some draperies are made of a single layer of material. This type of drapery is not considered a black-out drapery because it does not contain the additional layer of thermal fabric.Windows play a huge role in the design of your home. As do the draperies that can grace your windows.
 ShutterLuxe, Your Draperies Design and Installation Experts
ShutterLuxe, here in the Pelham and Tuscaloosa area of Alabama, has been assisting both residential and commercial property owners with design services for generations.We are a family owned and inherited business that is committed to providing our neighbors with friendly and courteous service. We are unmatched professionals with superior workmanship and experts at design and installation of window treatments.
Here are some of the manufacturers we work with:
Graber
Norman
Skandia
Horizons Window Fashions
Sundown Window Fashions
Our window coverings are totally customizable and available in a myriad of colors, textures, materials, and fabrics.We would love to come and give you a free in-home consultation. Let us help you design for your dreams and help you choose the style and function that works best for your space. To learn more about our free consultation, just give us a call at the number below.
Recent Articles
Deciding on the perfect window treatment design to fit your home

Look no further because Roman shades are just the window covering you've been searching for. These shades are generally made from woven fabrics that can be lowered down in a cascading fashion. It provides a beautiful and elegant aesthetic that really enhances the décor of a room. There are different styles and looks of Roman...

Read More
Reasons Shutters Are Ideal For Your Homewood House

Some days, it seems like being a homeowner is nothing but a series of complicated tasks to take care of or decisions to make. This can be true of choosing your window coverings, if you don't know what choice to make. As shutters continue to surge in popularity, you may be wondering why or trying...

Read More
If you are looking for Draperies and window coverings in the Tuscaloosa area then please call 205-239-4302 or complete our online request form.