The Shutter Experts in Huntsville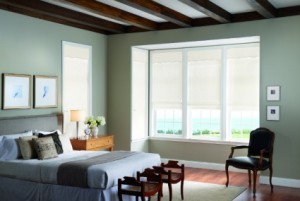 Shutters are a fantastic way to enhance your home's interior. They offer tremendous functionality in light control and lend your windows a touch of elegance and class. They offer a classic look that never goes out of style, bringing your interior back to a time when shutters were common before the advent of central cooling.
ShutterLuxe, Inc
offers a wide selection of high quality shutters from the finest manufacturers. Our window treatment technicians are professionally trained and possess the creativity and tools to provide you with the best shutter service around. We first provide you with a
free in-home design consultation
so that you can see samples first-hand. Together we craft the perfect shutter design that fits your décor and budget. When we find the right shutters for you, we also offer free expert installation that will have your windows dressed quickly and accurately. That is why we are the top choice in Huntsville for shutters and shutter installation.We offer a wide variety of shutter types, styles and finishes. We also offer fully custom options, so your shutters can perfectly match your design. We have real wood shutters of varying types of wood, with deep and rich grain. We offer them painted or stained, and for the DIYers we can deliver them unfinished as well. We also offer super durable polycore shutters in a limitless selection of colors. These long lasting shutters will serve you for years to come and you'll never have to repaint them. No matter what your shutter needs, ShutterLuxe, Inc can accommodate.
Window Blinds in Huntsville You'll Love
If you are considering window coverings as a way to dress up your interior and cover your bare naked windows, blinds are a versatile option. There are so many types of blinds and they come in every shape and size, they will work with any décor theme. High quality blinds can also enhance your interior space with beautiful aesthetics as well as their light control functionality. For the highest in quality, you need the blinds experts at ShutterLuxe, Inc.We only work with the best manufacturers and our selection is vast. We strive to offer the widest variety of blinds to see to all the design needs of Huntsville residents. We offer real wood blinds, which are extremely popular. Wood blinds lend a richness of character through their deep wood grains that can be appreciated by all who see them. They lend an air of elegance and class to a room regardless of the design style. Our wood blinds can come finished with any color paint or stain you desire or be unfinished. We offer varying louver sizes and widths for better light control, easier cleaning and a fuller look.We also offer faux wood blinds in just about every color imaginable. Faux wood does a good job at mimicking real wood but at a fraction of the price. Faux wood blinds are a bit more durable as they don't warp or bow. They are also moisture resistant, making them the better choice for bathrooms and kitchens. If you have children or pets, faux wood blinds are a great option. Our blinds are all stunning and vibrant and hold their finish for many years, requiring little maintenance.
Huntsville's Premier Resource for Quality Window Shades
If you are looking for an affordable way to make a huge impact on your design, look no further than window shades. Shades offer one of the most inexpensive window treatment options that can also be the most decorative. Window shades are made of fabric and very few moving parts. These light-weight, simple treatments are easy to install and maintain. They can be made of virtually any material and come in an endless number of colors, textures and patterns. They can be simple or ornate, minimalistic or elaborate; whatever works best for your space.ShutterLuxe, Inc offers a custom window treatment experience to Huntsville residents, so we have the perfect shades for your home. We offer roller shades, Roman shades, pleated shades, solar shades, woven wood shades and many more. We have flat, single color shades that will create a modern but minimal feel. We also have ornate and billowing balloon shades that will provide an elegant finish to your space. Our talented design consultants can help you determine the fabric and pattern that fits best with your décor, so call us and explore how window shades can transform your home.
What Huntsville Homeowners Are Saying About Us
ShutterLuxe Inc is Rated: 5 / 5
based on these 2 happy customer reviews.
---
"Thank you!
Rob is very easy to work with and he offers great quality options for every budget. I would highly recommend him and ShutterLuxe!"
---
"We would highly recommend Rob Leonard and Shutterluxe for any of your window treatment needs. Not only is he personable and professional, we received an estimate before he left- that was much less than competitors!!Once he received our blinds he also installed them in a timely manner."
---
Recent Articles
Faux Shutters, Perfect For Tuscaloosa

It wasn't long ago that shutters were not as durable as they are today. In Tuscaloosa, faux shutters are a great option due to their resistance to moisture. While styles like the Plantation Shutters have been around a long time, there weren't any types of faux wood shutters that would stand up to the elements....

Read More
The Benefits Of Polycore Shutters

If you are already considering Polycore Shutters for your Tuscaloosa home, you may already know a thing or two about them. Then again, this may be something that you are just starting to familiarize yourself with. Either way, it is certainly a good idea to learn as much as you can about something before making...

Read More
If you are looking for a Huntsville shutters Company then please call 205-239-4302 or complete our online request form.