Your Polycore Shutter Resource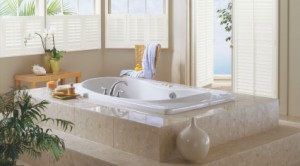 Window treatments can have a huge impact on your design, and that is why so many homeowners in Tuscaloosa spend the time and money to have the perfect treatments installed. Ideally this results in a beautiful window covering that lasts for years to come. One of the more popular window dressings, chosen for its amazing durability, is polycore shutters. These shutters are made of a durable synthetic material that has been hollowed out and reinforced with aluminum. This makes them extraordinarily durable and long lasting.
ShutterLuxe, Inc
proudly offers Tuscaloosa homeowners the best window treatments possible, and that includes high quality polycore shutters. We work with the finest manufacturers, so our design selection is vast and of superior stock. Our window treatment technicians are professionally trained and provide free measuring, free design consultation and free installation once you choose the perfect polycore shutters for your home. That is why we are the top choice for
Tuscaloosa polycore shutters
.
What Makes Polycore Superior?
Polycore shutters have a number of advantages over wood, vinyl or composite shutters. The aluminum reinforcement of polycore shutters keeps the louvers and frame from ever warping or bowing. Also, the components can be bolted together (as opposed to glued or stapled) creating a more secure construction. Polycore shutters come with a vibrant and long-lasting finish that will never need repainting. These attributes will reduce the money and hassle of future maintenance drastically.Another great advantage to polycore shutters is that they are extremely thin. This makes for better light control as the louvers shut and completely block light. Polycore shutters are also waterproof, so they don't absorb moisture. They are highly fire resistant as well. This combination of water and heat resistance makes them perfect for bathrooms and kitchens or other rooms that produce steam that would otherwise be very damaging.If you are looking for the perfect shutter, consider polycore. The co-extrusion process is so precise, these shutters have no imperfections, making them extremely functional. They also come in a limitless variety of colors and you can get them in any style, including plantation. Although these shutters are thin and sturdy, if you order them from ShutterLuxe, Inc we won't make you install them. All of our polycore shutter products come with a free installation.One of the most attractive features of polycore is that it is very inexpensive. Compared to real wood, polycore is a steal. So if you are looking for an affordable way to really enhance your design, polycore shutters on all of your windows is the way to go.
Our Tuscaloosa Polycore Shutter Resource Provides the Following Services
Polycore Plantation Shutters
Polycore Café Shutters
Polycore Shutter Installation
In-Home Design Consultation
Recent Articles
The Benefits Of Polycore Shutters

If you are already considering Polycore Shutters for your Tuscaloosa home, you may already know a thing or two about them. Then again, this may be something that you are just starting to familiarize yourself with. Either way, it is certainly a good idea to learn as much as you can about something before making...

Read More
How to Save Energy (And Money) With Window Shutters

In the past, window shutters were primarily used to block winds or sunlight, but as more advancements were made in home heating and cooling systems, shutters started to be used primarily for decoration. If you look at homes in Tuscaloosa, you'll see many with traditional window shutters framing their windows. usually, those shutters are fixed...

Read More
If you are looking for Tuscaloosa Polycore Shutters then please call 205-239-4302 or complete our online request form.