Premium Woven Wood Shades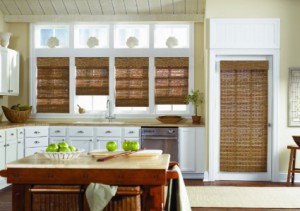 While most of a home will likely follow a similar theme in its interior design, every room offers a new opportunity to express that theme in a different way. Window treatments provide a great outlet for this in rooms that have windows. One popular choice in Tuscaloosa, particularly for sun rooms or patios is the woven wood shade. These shades offer a rustic and naturalistic look that brings the elements of the outdoors, inside.
ShutterLuxe, Inc
proudly offers Tuscaloosa homeowners high quality woven wood shades. We work with the finest manufacturers of window treatments, so we have a vast and premium selection of woven woods. Our window treatment specialists are trained professionals with the tools and skills necessary to promptly and accurately install your woven wood shades. Measuring and installation is free and that is why we are the number one choice for
Tuscaloosa woven wood shades
.
Bring Nature To You With Woven Wood Shades
Woven wood shades are primarily made of bamboo reeds, grass and rattan. These natural elements create a distinct "woodsy" look that brings the outdoors into any room. The amount of certain elements can alter the color of your woven wood shades, giving you a bit of versatility with customization. Because of their composition, woven wood shades really can work with any décor type you have.Woven wood shades work as an elegant backdrop in a grand dining hall or a rustic, country style kitchen. They fit in a traditional, wood themed kitchen as well as a modern and sleek bathroom. They come in all hues from white to dark chocolate, mahogany color, pink and many more.Functionally, woven wood shades provide moderate light diffusion. While the cracks in between the reeds won't block out sunlight entirely, that really isn't the point for these shades. They block outside vision to allow for privacy but allow enough sunlight in to complete the ambiance they intend to create. With woven wood shades, you get to really appreciate the more natural elements that surround your home.
Our Tuscaloosa Woven Wood Shade Experts Provide the Following Services
Woven Wood Shades
Bamboo Blinds
Matchstick Blinds
Shade Installation
Recent Articles
5 Beautiful Types of Shades that Can Beautify Your Tuscaloosa Home

If you have been thinking about ways to improve the beauty of your Tuscaloosa home but have decided against projects because of time, money, or effort, then you should know that there is a fantastic and affordable option available to you. You can dramatically improve the look and feel of your living spaces by installing...

Read More
The Benefits Of Polycore Shutters

If you are already considering Polycore Shutters for your Tuscaloosa home, you may already know a thing or two about them. Then again, this may be something that you are just starting to familiarize yourself with. Either way, it is certainly a good idea to learn as much as you can about something before making...

Read More
If you are looking for Woven Wood Shades then please call 205-239-4302 or complete our online request form.